Locate employees, vehicles, and assets from your computer, laptop, or smartphone with Teldio TruFleet, the leading GPS tracking and management solution for fleet managers and dispatchers.
Easily track the location of your mission critical assets and staff through their Motorola radios.
Let us show you how TruFleet is the best GPS fleet tracking solution for healthcare by scheduling a demo with one of our experts.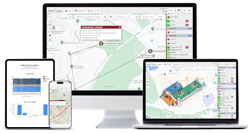 Improve communication
Enhance productivity
Ensure safety of employees
See TruFleet in action for
a chance to win an iPad 10
We work with your local area Motorola authorized dealer to make sure that you are covered and supported by local people who want your business to succeed.
Best fleet management and location tracking solution for healthcare.